YOU, YOUR PARTNER, AND YOUR BABY DESERVE THE VERY BEST
HypnoBirthing in Australia
Welcome to HypnoBirthing International – Australia. The official HypnoBirthing program practiced all around the world. A complete birth education to help you reconnect with your natural ability to birth, for a more comfortable, calm & positive birth!
We are very proud to have over 190 Gold Seal HypnoBirthing Educators in Australia, with those numbers rapidly growing as we run educator trainings in each state every year.
Our HypnoBirthing couples say that this is the best investment they ever made for birth and for parenting! You don't need to go through birth feeling frightened, controlled and traumatised. Birth should not be that way. Let us support you to feel amazing in birth, no matter how your birth plays out.
Our HypnoBirthing Course will:
Help you be prepared to give birth calm and confidently.
Help you feel connected to your body, your baby and your birth partner.
Help you feel informed on your choices.
Help you be better supported by your birth team.
Help you deal with different birth situations, from a home birth to a planned C-section.
Teach proven labour techniques to reduce pain and fear in birth.
Reduce the chances of postnatal depression and anxiety.
Read more about our HypnoBirthing Course here.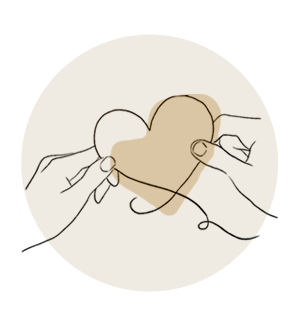 A complete birth education to help you reconnect with your natural ability to birth, for a more comfortable, calm & positive birth!

I was a bit skeptical about HypnoBirthing, however after the most incredible birthing experience, I gladly own up to how wrong I was! It gave both my husband and I the confidence to advocate for the birth we wanted and that felt natural to us. It was helpful in ways I hadn't imagined possible and couldn't have predicted.

Eliza W, QLD
After a horrific inducted & instrumental 1st birth I was experiencing severe anxiety about having to go through labour & birth again… Cyndi was an angel that kept me grounded throughout the whole process as our doula & hypnobirth teacher which allowed a great start to life for Lottie & helped us bond instantly!

Lindsay P, VIC
HypnoBirthing was truly one of the most beautiful experiences. I recovered very quickly from both births and I truly believe hypnobirthing had so much to do with that and we have such relaxed, beautiful, healthy children. I hope many more woman and their partners can become empowered to have the births they dream of.

Michelle C, VIC
Look for the Gold Seal of Quality…
HypnoBirthing International (The Mongan Method) is the Gold Standard of HypnoBirthing Globally. We are the original and official HypnoBirthing Program here in Australia & the program chosen by the Royals! The Gold Seal signifies both credibility and professionalism of our Educators Internationally with accreditation from the HypnoBirthing Institute. This emblem is only given to those educators who have pushed themselves successfully to complete the extensive HypnoBirthing Certification and training. We have over 30 years of proven results and many, many successful, positive birth stories.